Exhibition "El buen vivir" – Gran Meliá Colón
MAGASE ART GALLERY AT THE GRAN MELIA COLON HOTEL
The Hotel Colón in Seville hosts the exhibition 'El Buen Vivir', by the artista Patricio Hidalgo and Martín Lagares, organized within the framework of the 'Lessons of the Great Living' of the Gran Meliá chain through the 'online' Magasé Art Gallery.
The show reflects the emotion of flamenco and street life, through the brushes of the painter Patricio Hidalgo and the passion with the sculptures 'Kiss-Series' and the 'Warhol' of the sculptor Martín Lagares.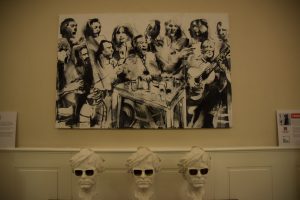 The exhibition consists of more than twenty pieces that will be part of the ephemeral decoration in the 'Majestic' hall of the central Sevillian hotel during the concerts of the #NochesdelHotelColon, an evening full of culture and passion, through music in live that have been celebrated on June 27, with Javier Ruibal, this Thursday, July 4 with singer Mawi and next Thursday with María Pelae.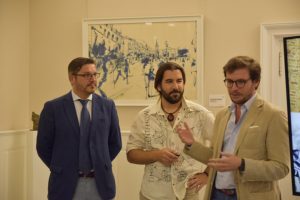 During the inauguration, which was attended by the Vice Minister of Culture of the Junta de Andalucía, Alejandro Romero.
The director of Magasé Art Gallery, Fernando Mañes, has presented through the projection of a video of the exhibition rs Ars in luce ', which was the starting point of this project, the aim of this gallery.
In this regard, Mañes has detailed that it seeks to transform and adapt the gallery concept to the technological era, valuing the works of contemporary artists such as Pedro Rodríguez Garrido, Marga García Pinto, Daniel Franca, María JL Hierro, Joaquín González, Erick Alcántara, Murdo Ortiz, Gonzalo Llanes and Ana Becerra, among others.
"To make the works of the artists that make up this project reach the general public, to disseminate the different artistic expressions, create synergies and link these with other social sectors and all kinds of spectators", is another of Fernando Mañes' purposes with this project artistic. Specifically, this exhibition will be exhibited until July 12 at the aforementioned Sevillian hotel.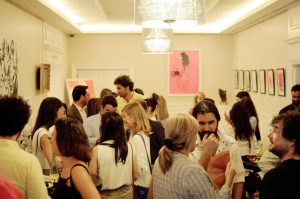 -Europa Press-
https://www.20minutos.es/noticia/3693690/0/magase-art-gallery-organiza-buen-vivir-con-obras-patricio-hidalgo-martin-lagares/